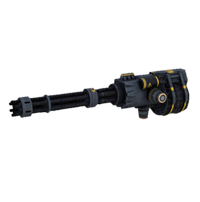 Introduction
Equipment can be mounted on a robot's hardpoints; there are currently three different hardpoint classes, light, medium and heavy, usually with light being less powerful, and heavy having more powerful equipment.
On each robot, weapons or shields can attach to their respective hardpoints. A robot may have from one to four of them, and depending on design can be in a variety of positions or combinations. The hardpoints on robots cannot be upgraded, re-positioned or removed; (however developers are known to change hardpoints type/location in rare cases - Cossack had a light hardpoint that was changed to medium, Gl Patton was designed with two light hardpoints, and later another two were added, and Golem had the location of the light hardpoint changed, from next to the medium hardpoint, to under the heavy hardpoint).
The equipment class has to match the corresponding hardpoint class. There is one exception to this rule; the Ecu can be mounted to either a light or medium side hardpoint but is not available on light and medium hardpoints on specific robots (e.g. the top medium hardpoint of the Rhino).
List by Hardpoint Type
Equipment Types
Weapons
Defensive
Weapons by Range, Hardpoint & Damage Type
* The Ember is not a true energy weapon, unlike energy weapons, it is the only weapon that can bypass both physical and energy shields.
Equipment Cost Table
Light
Medium
Heavy
Equipment
Price
Equipment
Price
Equipment
Price
Punisher
20,000 Silver
Punisher T
30,000 Silver
Nashorn
100,000 Silver
Molot
20,000 Silver
Molot T
30,000 Silver
Ancile
1,500 Gold
Spiral
20,000 Silver
Ecu
50,000 Silver
Thunder
580,000 Silver
Ecu
50,000 Silver
Orkan
1,200 Gold
Kang Dae
580,000 Silver
Gekko
750 Gold
Tulumbas
435,000 Silver
Zeus
1,500 Gold
Aphid
750 Gold
Taran
5,650 WP
Zenit
580,000 Silver
Pinata
290,000 Silver
Hydra
5,650 WP
Trident
7,500 WP
Pin
290,000 Silver
Scourge
10,000 Components
Trebuchet
7,500 WP
Noricum
290,000 Silver
Shocktrain
10,000 Components
Tempest
10,000 Components
Magnum
3,750 WP
Vortex
10,000 Components
Ember
10,000 Components
Gust
10,000 Components
Ion
10,000 Components
Redeemer
10,000 Components
Arbalest
10,000 Components
Ballista
10,000 Components
Dragoon
10,000 Components
Spark
10,000 Components
Thermite
10,000 Components
Flux
10,000 Components
Exodus
10,000 Components
Avenger
10,000 Components
Chimera
10,000 Components
DPS Graph
Below is a graph showing the cycle and burst DPS (damage per second) of all weapons in the game.
Weapons are separated into 2 classes: Instant (burst) and sustained (cycle). Instant weapons unload all their damage in a second or less, while sustained weapons deal their damage over a period of 2 seconds or longer.
Trivia
See Also