The unofficial wiki about the online robot combat game by Pixonic.
War Robots (The Game)
War Robots (formerly Walking War Robots) is an online multiplayer robot combat game developed by Pixonic, in which players pilot giant robots in a 6 versus 6 team capture-the-flag style combat simulation. Available on iOS, Android , Facebook Gameroom and Amazon.
War Robots (This Wiki)
This Wiki's purpose is to provide a collaborative encyclopedic repository for everything related to the game, War Robots. Here you will find a community of dedicated players sharing hints and tips about the game, and information on the various Weapons, Robots and maps!
Visit our trial ProBoards forum.
New to War Robots? Then perhaps you should start by taking a look at our Beginners Guide.
---
Contributing to the Wiki
Contribute
Community

Create an account and join the community!
You must be over 13 to contribute to this Wiki.
Got questions? You may want to read our FAQ.
Please be sure to follow our Code of Conduct.
Be sure to read our Style Guide on editing articles.

Join the Chat to meet your fellow pilots!
Ask questions, share your ideas in our Forum.
New to Walking War Robots? Take a look at our Beginners Guide.
If you are new to wikis, check out the tutorial.
Don't hesitate to contact an Admin for assistance!
But mind your language as we have many users under 18 years old.
Editing Advice
Everyone is encouraged to contribute towards the development of this wiki. The simplest way to do this is by editing an article. When doing so:
Include only verifiable factual information and not opinions, rumours or speculation.
Be specific only if necessary. Be general otherwise.
Be objective. Avoid Personal opinions.
Tactics are suggestions. Not "You should do this". More like "It is advised that the player should do this".
Flaming or offensive posts will be met with an instant block of three days or more, depending on severity.
Ensure the article displays correctly by using the Preview option before publishing.
Please do not use profanity/swearing in comments or forums. Thank you.
Combat Roles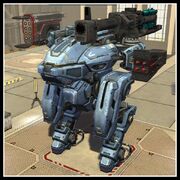 Being primarily an area control game, War Robots requires a team with a good mix of robots in order to win. Capturing beacons and defending beacons require different setups. Unless you are lucky enough to kill the entire red team, having a full team of heavy hitters (or long range snipers) won't win you the match if you can't get to the beacons before the timer runs out. Robots that are setup for a particular role e.g all close range heavy damage weapons, is generally better than a robot setup with weapons designed for different purposes e.g. two close range and one long range weapon. Be a specialist. It works well in War Robots.
While not an exhaustive list, here are the main roles typically found on a good team.
Thank you to all who are maintaining this wikia.
Disclaimer: This wikia is an unofficial fan wiki to the Pixonic game "War Robots" and no copyright infringement is intended! Official War Robots website
Join the Chat>
Opinion Polls
What do you think of the new targeting system?
The developers need to work on:
Ad blocker interference detected!
Wikia is a free-to-use site that makes money from advertising. We have a modified experience for viewers using ad blockers

Wikia is not accessible if you've made further modifications. Remove the custom ad blocker rule(s) and the page will load as expected.