Pixonic started tradition of introducing events in 2016.
Typical event got the following perks:
Sale offers for some old or new stuff.
Special "Event coins", which are earned during ANY battle, win or loose, in small amounts (typical 2~5 per battle) - only one event so far used Au instead of coins.
Silver chest gives bigger amount than the Bronze one plus WP stuff, and Golden chest gives ONLY big prizes.
However, it is still possible to get a Gepard out of the chest.
After spending some amount of coins (approximately 7000~8000) player is given a bonus "Epic" chest, which holds prizes no cheaper than 1500 Gold.
Event tasks - introduced during Anniversary 2017 event, it accompany Daily Tasks, and present player the opportunity to earn a lot of Silver and valuable prizes; usually premium weapons and bots with paintjobs pre-applied. It is worth noting that paintjob cannot be re-applied to a different bot, so to use bot with paintjob player must upgrade newly acquired bot.
Events list:
2016 Halloween
2016 Christmas
2017 Chinese new year
2017 War Robots 3rd anniversary
Event tasks details and prizes list:
2017 Independence Day
Event tasks details and prizes list (percentage shows completed kills, caps, win by the task in relation to the total event amount):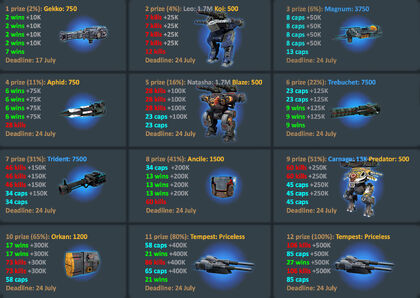 Ad blocker interference detected!
Wikia is a free-to-use site that makes money from advertising. We have a modified experience for viewers using ad blockers

Wikia is not accessible if you've made further modifications. Remove the custom ad blocker rule(s) and the page will load as expected.