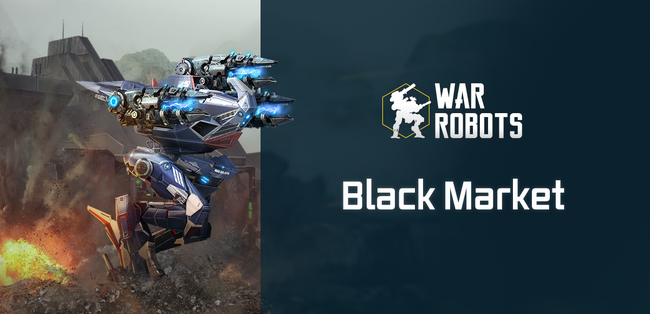 WARNING
Although keys are given for FREE, and that's a great thing to get for FREE, there is NO sure-fire way to get a specific item from the chest. It is advised NOT to expect ANY prize from the chest to avoid frustration. Pixonic does NOT guarantee a win, no matter how many (or how few) chests were opened, or real money spent.
Please restrain yourself from spending ANY money you are not comfortable to spend for no particular result. Chances to win great prizes are far less than during the 3rd Anniversary event held in May 2017. Because of this, players who don't intend to spend money or have little gold SHOULD NOT SPEND ANY on the Black Market apart from the first two or three as prices are vastly inflated beyond that.
Introduction
Black Market is just another name for infinite chests that can be opened, Event-style. Player must be above level 5 to use it. Player receives special Event tokens, key-shaped, for every battle he played through. Amount or keys depends on the final standings, and varies from 5 to 1. If the player leaves a game, he is given ZERO keys. Same as with the usual event chest, keys might be purchased with real money; however it is worth noting that Black Market keys cannot be "gifted" to a clanmate.
Chests and prizes
As with usual event, there are three types of chests, inconveniently named "bronze" - 10 coins worth, "silver" - 100 coins worth and "gold" - 1000 coins worth. This naming has NOTHING to do with currency, tiers and\or prizes that could be recollected from the chests.
Chests are one way to get components for the Kumiho, Haechi, Bulgasari, Inquisitor, Scourge, Tempest, Ember, and the Shocktrain.
IMPORTANT: All chests may contain the robots in the second paragraph among other things. However, chances of winning Dash bots are higher for more expensive chests.
Typical prizes that can be found in different chests are as follows:
Super Chest automatically opened after opening a certain amount of regular ones. The progress bar above shows how soon that will happen. The more expensive chest opening fills the bar faster.
What you can get from chests
Each chest in Black Market has a corresponding chance of dropping certain items. 
Items are distributed by their worth:
Common — up to 20 Au
Uncommon — 21-200 Au
Rare — 201-1500 Au
Epic — more than 1500 Au
NOTE. These rates are relevant for version 3.2
Bronze - 10 keys
Possible loot: 

● Ag: 5000-200000 ● Au: 3-1000 ● Keys: 1-400 ● Components: 5-70 ● All Ag, Au, WP and IP robots and weapons
| | | | | |
| --- | --- | --- | --- | --- |
|   | Common | Uncommon | Rare | Epic |
| Equipment | 4.40% | 1.84% | 0.06% | 0.04% |
| Robots | -- | 0.53% | 0.14% | 0.04% |
| Equipment (components) | 13.20%  | 1.86% | -- | -- |
| Robots (components) | 19.43% | 2.61% | -- | --  |
| Ag | 10.02% | 0.17% | -- | --  |
| Au | 6.05% | -- | 0.01% | --  |
| Keys | 39.56% | 0.99% | 0.03% | --  |
Silver - 100 keys
Possible loot: 

● Ag: 100000-300000 ● Au: 40-500 ● Keys: 30-1000 ● Components: 80-700 ● Only Au, WP and IP robots and weapons
| | | | | |
| --- | --- | --- | --- | --- |
|   | Common | Uncommon | Rare | Epic |
| Equipment | -- | -- | 1.17% | 0.60% |
| Robots | -- | -- | 0.30% | 0.55% |
| Equipment (components) | -- | 18.55% | 1.68% | -- |
| Robots (components) | -- | 25.30% | 0.89% | --  |
| Ag | -- | 13.49% | -- | --  |
| Au | -- | 13.10% | -- | --  |
| Keys | -- | 23.62% | 1.12% | --  |
Gold - 1000 keys
Possible loot: 

● Au: 550-5000 ● Keys: 500-4000 ● Components: 800-6400 ● Only Au and IP robots and weapons 
| | | | | |
| --- | --- | --- | --- | --- |
|   | Common | Uncommon | Rare | Epic |
| Equipment | -- | -- | 7.09% | 2.70% |
| Robots | -- | -- | 3.31% | 3.44% |
| Equipment (components) | -- | -- | 15.45% | 5.73% |
| Robots (components) | -- | -- | 23.00% | 5.40% |
| Ag | -- | -- | -- | --  |
| Au | -- | -- | 13.91% | 2.09% |
| Keys | -- | -- | 15.11% | 2.67% |
Superchest - approximately 7550 Keys worth of opening other chests
Possible loot: 

● Au: 2250-4000   ● Keys: 2000-3000  ● Components: 2000-12800 ● Only most valuable Au and IP robots and weapons
| | | | | |
| --- | --- | --- | --- | --- |
|   | Common | Uncommon | Rare | Epic |
| Equipment | -- | -- | -- | 4.74% |
| Robots | -- | -- | -- | 12.08% |
| Equipment (components) | -- | -- | -- | 23.07% |
| Robots (components) | -- | -- | -- | 31.19% |
| Ag | -- | -- | -- | --  |
| Au | -- | -- | -- | 11.74% |
| Keys | -- | -- | -- | 17.53% |
Every 4 weeks Black Market resets. Any spare Keys automatically converted into a loot prioritizing most valuable chests. For any number of keys fewer than 10 keys 1 Bronze chest will be opened. For example for 1991 keys the following chests will be opened:
— 1 Golden chest (1000 keys),
— 9 Silver chests (9 x 100 keys),
— 10 Bronze chests (9 x 10 + 1 key on top)